Flea-Order Siphonaptera
APPEARANCE: Black to brownish-black, about one-twelfth to one-sixteenth inch long; six legs, with many bristles on body and legs; flattened body.
HABITS: Found on cats and dogs year-round, but most common during warm and humid weather; readily attack and feed on humans; can jump as much as seven-eighth inch vertically, and 14 to 16 inches horizontally.
DIET: Blood
REPRODUCTION: Female can lay about 25 eggs a day, and up to 800 eggs during her lifetime; fleas undergo complete metamorphosis, usually in 14 to 90 days.
OTHER INFORMATION: Carrier of many diseases; adults can live one to two months without feeding.

Booklice Family Psocidae
APPEARANCE: Colorless to gray or light brown, ranging from one-twenty-fifth to one-twelfth inch long.
HABITS: Prefer to live in damp, warm areas; can be found outdoors in grass or leaves, and in areas where molds grow.
DIET: Microscopic molds and starchy materials such as paste and glues of book bindings and wallpaper.
REPRODUCTION: Single female produces between 120 to 456 offspring; lifetime averages 24 to 110 days.
OTHER INFORMATION: Most numerous in houses during spring and summer; may become abundant and cause damage to books.

Indian Meal Moth Plodia interpunctella
APPEARANCE: Adults have wing spread of five-eighths inch; wings are pale grey, with outer portion of forewing reddish brown; larvae are about one-half inch long, with dirty white color.
HABITS: Adults fly mainly at night.
DIET: Larvae feed on all kinds of grains, flours and dried fruits; its extensive webbing spoils more food than it consumes.
REPRODUCTION: Females lay between 200 to 400 eggs in spring; complete life cycle ranges from four to six weeks.
OTHER INFORMATION: Larvae and adults are often mistaken for clothes moths; adults live only one or two weeks.

Clothes Moth Order Lepidoptera
APPEARANCE: Larvae are shiny, white worms about one-half inch long; adults have narrow fringed wings, are yellowish brown and also about one-half inch long.
HABITS: Prefer darkness; can disappear quickly if disturbed.
DIET: Wool and other fabrics; fur; other protein-based materials.
REPRODUCTION: Adult females lay up to 200 eggs; larvae reach maturity in 35 days to two and one-half years; adults live 15-30 days.
OTHER INFORMATION: Adult clothes moths are incapable of eating anything; it is the larvae which do all the damage.

Centipede Class Chilopoda
APPEARANCE: Flattened, with one pair of legs on most of their segments; segments number from 10 to 100; one to one and one-half inches long; various colors.
HABITS: Usually live outdoors beneath damp accumulations of leaves, stones, boards, etc. Occasionally find their way into homes, where they hide in moist basements, damp closets and bathrooms; when disturbed, they run swiftly.
DIET: Insects and spiders.
LIFE SPAN: Some species live as long as five to six years.
OTHER INFORMATION: Large jaws can inject poison, but a bite is comparable to a wasp sting, and is not life-threatening.

Millipede Class Diplopoda
APPEARANCE: Brownish, one to one and one-half inches long; segmented, with a pair of legs per segment.
HABITS: Nocturnal; normally live outdoors under objects located on damp soil; hordes will crawl into homes.
DIET: Eggs are deposited in the soil; most species reach sexual maturity in the second year, and live several years after that.
OTHER INFORMATION: Occasional epidemics occur, where thousands of millipedes will infest an area, sometimes carpeting the ground with their bodies.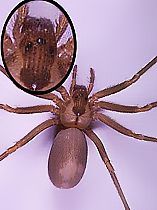 Brown Recluse Spider Loxosceles reclusa
APPEARANCE: Yellowish to brown, with a dark brown violin-shaped dorsal marking; five-eighths to one-half inch long.
HABITS: Can be found outside under rocks, leaves, debris, bark, wood piles, utility boxes; found inside in storage areas such as closets, attics, bedrooms; usually found close to the ground.
DIET: Cockroaches, crickets and other soft-bodied insects.
REPRODUCTION: Mating occurs from February to October; 40 to 50 eggs are deposited in off-white, round silken cases; lifetime averages from one to two years.
OTHER INFORMATION: Bite is poisonous, but rarely fatal; neglected bites can cause a disfiguring scar; presence of shed skins indicates infestation.

Black Widow Spider Genus Latrodectus
APPEARANCE: Female is one-half inch long; shiny black, with hourglass-shaped red mark on underside of abdomen.
HABIT: Can be found almost anywhere, indoors or out; prefer to build their nests close to the ground.
DIET: Insects trapped in web made by female.
REPRODUCTION: 300 to 400 eggs are laid in silken cocoon, hatch in about 10 days.
OTHER INFORMATION: Black widows are not aggressive, and will not bite unless provoked. However, they are poisonous. If bitten, seek medical attention; bites are rarely fatal.

Pillbug/Sowbug Order Isopoda
APPEARANCE: Not more than three-fourths-inch long; thorax composed of seven hard overlapping plates with seven pairs of legs; only pillbugs are able to roll up into a ball.
HABITS: Prefer moist locations; found under objects on damp ground; mostly nocturnal; often invade basements and first floors of houses.
DIET: Decaying vegetable matter.
REPRODUCTION: Female gives birth to between 24 and 28 young per brood; usually one to three generations a year; may live as long as two years.
OTHER INFORMATION: Pillbugs and related sowbugs are the only crustaceans that have become completely adapted to living their whole life on land.

Earwig Order Dormaptera
APPEARANCE: Five-eighths inch long, dark reddish-brown, with yellow-brown legs; large forceps (cerci) on the end of the abdomen, which pose no threat to humans.
HABITS: Found all over homes, particularly in cracks and crevices near or on the ground; active primarily at night.
DIET: Scavengers; will eat just about anything.
REPRODUCTION: Up to 60 eggs are laid in burrows in the ground and guarded by the female; hatch in the spring.
OTHER INFORMATION: Many species have a gland which secretes a foul-smelling, yellowish brown liquid when threatened.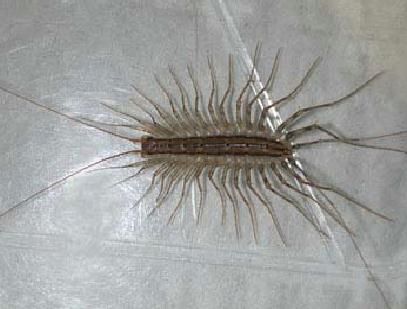 Silverfish Order Thysanura
APPEARANCE: About one-fourth inch to one-half inch long, somewhat "carrot-shaped" from above; gray or silver-colored; three filaments extend from rear.
HABITS: Nocturnal; move swiftly, can jump; found where there is excessive humidity; do great damage to books, wallpaper, other paper products.
DIET: Prefer starch, paste, glue; paper products of all kinds; starched textiles.
REPRODUCTION: Two to three month reproductive cycle; lay about 50 eggs per hatch; live two to two and a half years.
OTHER INFORMATION: Thought to belong to one of the most primitive existing insect orders, more than 400 million years old.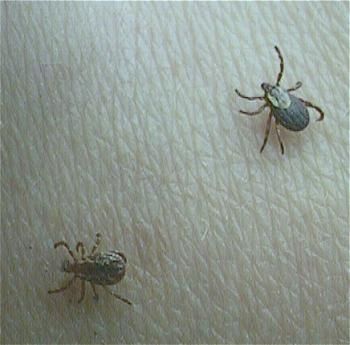 Ticks Order Acarina
APPEARANCE: Appearance differs by species, but all adults are very small, roundish, with eight legs (larvae or seed ticks have six legs); one-eighth to one-half inch long.
HABITS: Live on the bodies of mammals, birds and reptiles.
DIET: Blood; all species can swell to a considerable size after feeding.
REPRODUCTION: Differs by species, but typical indoor cycle begins with up to 5,000
OTHER INFORMATION: Ticks are known carriers of many serious diseases, including encephalitis, tick paralysis, typhus and Lyme disease; adults can live over 500 days without a meal.

Scorpion Order Scorpionida
APPEARANCE: Range in size from one and one-half to three inches long; eight legs, a pair of large pincers near the mouth; tail possesses a stinger.
HABITS: Most active at night; during the day, they hide under bark, logs or stones; in houses, they hide in closets, shoes and folded clothes.
DIET: Small spiders and soft-bodied insects; will eat other scorpions.
REPRODUCTION: Females produce an average of 32 young; young reach maturity in three to four years.
OTHER INFORMATION: Common in southern states; most species deliver a sting no more harmful than a bee's; very poor eyesight; use pincers as feelers.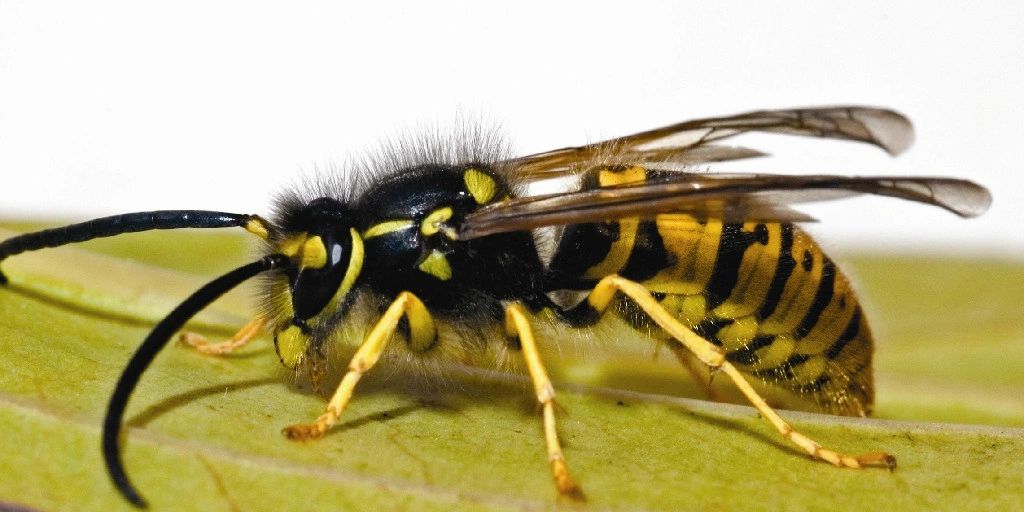 Bees Order Hymenoptera
APPEARANCE: Most species of concern to man have yellow and black coloring; seven-sixteenths to five-eighths inch long; appear to have hairy bodies.
HABITS: Live in colonies of 20,000 to 80,000 individuals; will leave humans alone if not provoked.
DIET: Nectar and pollen.
REPRODUCTION: Only one egg-laying queen in a hive; queen may live as long as five years and lay as many as 1,500 to 2,000 eggs per day; worker females protect eggs and the young; drones' only duty is to mate with queen, after which they die.
OTHER INFORMATION: Stings can be painful, but are harmless to most people; however, dangerous allergic reactions can occur.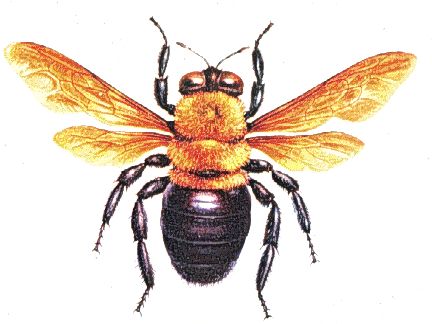 Carpenter Bee Genus Xylocopa
APPEARANCE: Large, about one inch, resemble bumble-bees; some species may have a blue-black, green or purple metallic sheen; no hair on abdomen.
HABITS: Often burrow into the exposed, unfinished dry wood of buildings, telephone poles, fence posts and bridges; prefer softer woods for nesting; not social insects, although individuals may establish burrows close to each other.
DIET: Pollen and nectar.
EPRODUCTION: Complete one generation per year in most of the U.S.; mature from egg to adult in from 84 to 99 days; female furnishes nest with "bee bread," a mixture of pollen and regurgitated nectar, and lays an egg on top of it.
OTHER INFORMATION: Damage to wood from a pair of bees is slight, but a larger number can, over a period of time, cause considerable damage; do not sting; make loud buzzing noise when flying

Wasps Order Hymenoptera
APPEARANCE: Variety of shapes and colors; can be distinguished from bees by their smooth, rather than hairy, bodies; one-half inch to three-fourths inch long.
HABITS: Exhibit predatory and scavenging behavior; some species are solitary, while others live in colonies which may number thousands of individuals.
DIET: Primarily protein, such as spiders, soft-bodied insects and small animals.
REPRODUCTION: Social wasps begin a nest with one queen laying all eggs for colony; if a queen dies, a worker can take over egg-laying function until colony produces new queen.
OTHER INFORMATION: Very protective of their nests; will defend against invaders with painful stings.